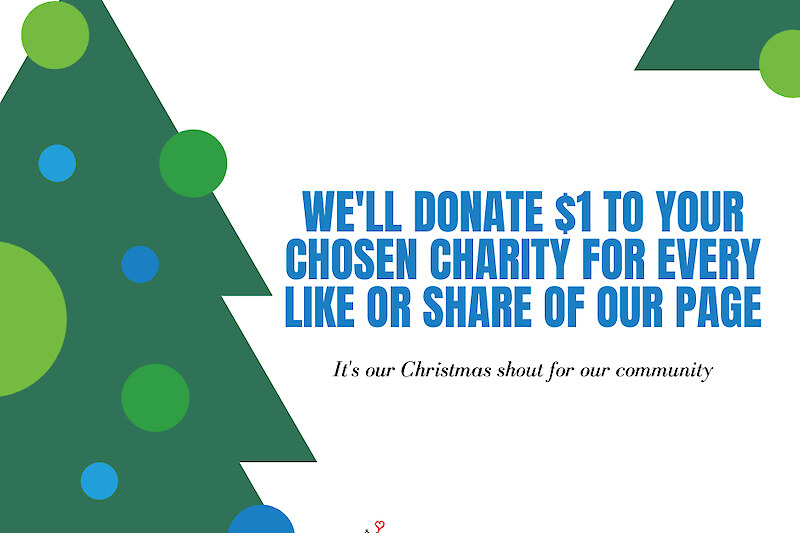 Share the Love With Us and We'll Pass It On
The lights are starting to go up on the trees, the hams are stocking up the supermarket shelves, and Santa's elves are working overtime in the North Pole. For so many of us, Christmas is all about spending time with family and friends over some great food and a few special treats. It's one of the most wonderful times of year with all the decorations, gifts and of course, the Christmas-themed movies. But when you really break it down, the real message of it all is quite simple, it's about sharing the love.
At WM Environmental, we've been thinking a lot about how we can actually give back to our community and give them some of the support we've been so lucky to receive. That's when we came up with the idea to let our clients and community choose who they want us to donate some money to this Christmas. We've selected three charities that are super close to our hearts, so that when you like our new Facebook page, we'll donate $1 to one of the three not-for-profit organisations. You can either choose to donate to Southland Rural Support Trust, the SPCA (Invercargill Centre) or Ronald McDonald Family Room Southland.
Each one of these has and is continuing to do some truly important work for our community, from supporting our agriculture workers, to the animals, and children and families that are in desperate need of support during some of the toughest times of their lives. They are beyond deserving of the money we are set to give them on your behalf, and what better time to do it than the season of giving!
For a little background and some help in making your decision, we want to tell you about each of these charities. Let's start with Southland Rural Support Trust. The Trust's main purpose is to support our rural community to get back on their feet when challenging circumstances arise, whether it be financial, personal or when facing climate adverse events. It is part of a nationwide network that links into local rural networks, and also works with Civil Defence, Work and Income, and a range of rural professionals in the industry. Plus, it's all free!
Then there's the SPCA. It's easily become a household name since it was first established in New Zealand in 1933, that's nearly 100 years ago! The whole goal of the SPCA is to protect, nurture and give a voice to the voiceless. Animals are such a significant part of our lives, whether they're working animals or the kind of pet that snuggles up on your lap after a long, hard day, and we need to take care of them. The organisation is on a mission to advance animal welfare and prevent cruelty towards them, and we couldn't be more pleased to support that.
Last but not least, there's the Ronald McDonald Family Room Southland. The independent charity provides free accommodation and support to families who have to travel to Christchurch and Invercargill for their child's medical treatment. They act as a home away from home in some of the most trying times in a family's life, and take the stress out of all the costs that come with having a child in hospital. That way, they can really focus on what matters most. The Family Room relies heavily on community and business donations in order to keep doing the amazing work that they do, so we could not pass up on the opportunity to be a part of that.
Whatever charity you choose to make your $1 donation to on us, you can go into the silly season knowing you have helped change a person or an animal's life, even if it's just by a fraction — because as they say, every little bit counts.
T's & C's
WM Environmental will donate $1 to your charity of choice for every person that likes their Facebook page. To state what charity you have chosen out of Southland Rural Support Trust, the SPCA (Invercargill Centre) or Ronald McDonald Family Room Southland, simply write it in the comments of any of WM's Facebook posts about the fundraiser. The donation cap is set at $3,000 total across the three charities and any page likes after that total is reached will not be counted. One $1 donation per one page like and the nominated charity. This promotion is in no way sponsored, endorsed, administered by or associated with Facebook. Check out our Facebook page here and the pinned post at the top of the page to name the charity you would like us to support on your behalf.
Posted: 6 December 2021